---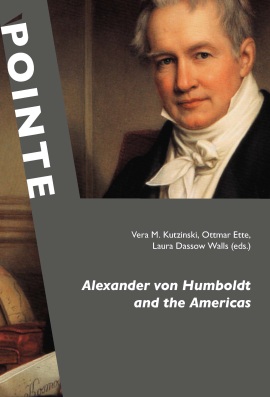 Vera M. Kutzinski, Ottmar Ette, Laura Dassow Walls (eds.)
Alexander von Humboldt and the Americas

(POINTE – Potsdamer inter- und transkulturelle Texte, vol. 3)
295 pp., 16 illustr., 19,80 Euros
ISBN 978-3-938944-63-9 (September 2012)
If Alexander von Humboldt's writings opened up exciting cultural spaces in his time, they can certainly do so again in our own day. As the twenty-first century addresses the problems of intercultural violence, environmental devastation, social justice, and global climate change, the tools and perspectives Humboldt developed and popularized may offer useful resources to meet challenges that he himself already foresaw.
In Humboldt's spirit, the aim of this collection of essays and translations is to foreground the importance of multiple vantage points. Part I encompasses a collection of eight essays, each from a different disciplinary location (be it cultural history, literary studies, or anthropology) and in relation to diverse geographies in the Americas (Canada, Cuba, Ecuador, Mexico, Peru, and the USA). Part II is a collection of eight excerpts from Humboldt's diary entries and letters originally written in French and German during his travels through the Americas (1799-1804). They appear here in English for the first time.
"This vibrant cross-disciplinary study of the latest developments in research on Alexander von Humboldt not only demonstrates just how rich the field of enquiry surrounding his work has recently become, but also charts exciting new courses that highlight his continuing relevance for modern scholarship." (Alison E. Martin, in: The British Journal for the History of Science)

Contents: see PDF
---
Would you like to order
a book from abroad? Please, send an e-mail to:
Tranvia@t-online.de
, and we will inform you about the terms of delivery.
---
---